Learning Management System
Instant Startup or Software Trial - Self Service or Full Service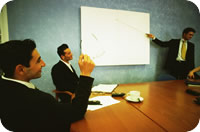 Are you currently training your employees, business partners or customers by circulating a set of Word documents or PowerPoint files? Have you been incurring ever-greater expenses for travel and classroom training costs? Are you skeptical about whether the online learning model will work for your course content?
Online training really works, and you can prove it using a full-service consultation and software trial, or a fully-supported self-service option. Either way, you will quickly assemble your own online courses and optionally monitor the training activity of your targeted learners. You can even add online tests to demonstrate the effectiveness of your training material.
You'll be able to use the management module to make changes, create additional courses, use our built-in authoring tool and access a full menu of dynamic reports. You'll see firsthand that online learning is easy and cost-effective.
In full-service mode, you'll work with one of our experienced E-Learning Consultants. Qualified companies can also request a 7-day trial a part of this option.
Our self-service option, which we call the Instant Training Center, is also popular and comes with full technical support.
Consider the two options below in deciding whether you need a small "self-service" pilot project or you want to work with us in addressing your needs for a larger "full-service" training initiative.
Self-Service




Instant Training System

No need to talk to a technician or sales rep/
Start building online courses now
Complete private FlexTraining system at your fingertips
Secure access, coursebuilding tools, student import, progress tracking, analysis
Built-in support for text, video, images, audio narrations
Use as pilot project, department prototype, proof-of-concept, or full-blown production training

Full-Service




Larger Projects, More Users, Personal Service

Professional guidance from an experienced E-Learning Consultant
Choose from 250, 1000, 5000 or unlimited user level
Consider server-based in-hourse system vs online subscription
Built-in support for text, video, images, audio narrations
Learning templates and best training practices
Tech support from actual software developers
Option to move later from subscription to in-house deployment and retain your training data